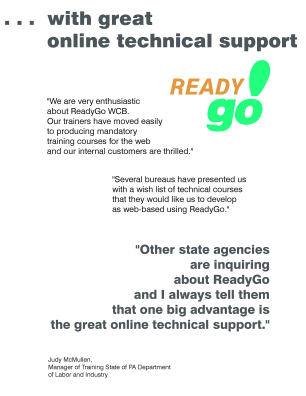 Company:
Commonwealth of Pennsylvania, Department of Labor and Industry, Bureau of Human Resources
Business:
Human resources for the Department of Labor and Industry
Location:
Harrisburg, PA
The Company
The Bureau of Human Resources is the organization within the Commonwealth of Pennsylvania Department of Labor and Industry responsible for managing compliance training and benefits for all 6,000 agency employees.
The Challenge
Employees must receive training on a variety of mandated topics including State Employees Assistance Program, HIV/AIDS, Bomb Threat, etc. Originally all of this training was classroom-based, delivered throughout the state for agency employees at various county, regional and other local facilities. With tight budgets for travel purposes, the Commonwealth of PA was looking for ways to deliver necessary training. The Development and Training Division believed that migrating some of their courses to e-Learning would lower training costs while providing agency employees with effective just-in-time training.
The ReadyGo WCB Solution
The Development and Training Division chose to use ReadyGo Web Course Builder since its simple user interface let existing trainers create courses for the web. "We are very enthusiastic about ReadyGo WCB," says Judy McMullen. "Our trainers have moved easily to producing mandatory training courses for the web and our internal customers are thrilled. Several bureaus have presented us with a wish list of technical courses that they would like us to develop as web-based using ReadyGo. Other state agencies are inquiring about ReadyGo and I always tell them that one big advantage is the great online technical support."