ReadyGo's instructional designers and graphic artists will create interactive and engaging e-Learning and m-Learning assessments for your organization.
This will result in higher rates of content completion by your employees.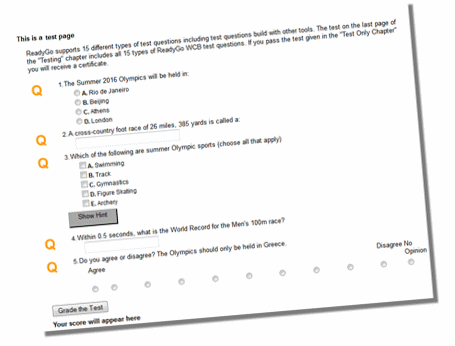 Needs analysis: Identification of your goals for your e-Learning and m-Learning courses

Assessment Creation: Selection of appropriate materials and creation of instructionally sound assessments.

Visual Design: Creation of appropriate graphics, exercises, and simulations

Content Integration: Proper merging of graphics, audio, exercises, and assessments into a coherent framework

Tracking Compatibility: Verification that courses track as desired through your Learning Management System or through ReadyGo's Server-Side Testing module

Hosting Services: Delivery of tests/surveys to students and of result reports for managers
We Build It - You Edit It! : When ReadyGo builds your e-Learning and m-Learning courses, we deliver the native files for the course so that you can edit it using a licensed copy of ReadyGo WCB software. You can now update and edit the course. This gives you complete control and saves you time and money.
Services include:
Assessment question types:

Multiple choice
True/False
Fill in the word
Numeric range
Pull down selection
Graded multiple selection
Picture-click multiple choice
Picture-click (no hints) single answer
Ranking/sequence
Drag-and-drop with matching columns
Drag-and-drop onto a picture with target regions
Matching columns
Other supporting features:

Hints can be provided when the student desires them
Based on the tracking system, repeated attempts to answer the questions may be enabled
feedback can be provided based on the answer selected (right/wrong or by selection).


As many as 100 questions can be placed on each page of content. This provides better instructional design than a single question on each page. Further, it allows questions relating to the same topic area to be grouped together.

Students are allowed to move back and forth between topic areas and bookmark them.

Branching can be enabled on a per-test-page basis. That is, students can be directed to different follow-on content based on their mastery of each page of tests.
Cost: ReadyGo charges $10-$30 per question. Depending on the level of complexity, interactive simulations may cost more.
If you have any questions or you want to discuss your specific requirements, please contact us.