Many course creators and SMEs start with existing Power Point presentations.
However, content that is typically sufficient for a PowerPoint presentation slide set is not extensive enough for someone taking self-paced e-Learning and m-Learning course.

ReadyGo has created a simple, straightforward author guide to provide course creators with a way to power their Power Point presentations so they can easily be turned into a course using ReadyGo WCB e-Learning and m-Learning software.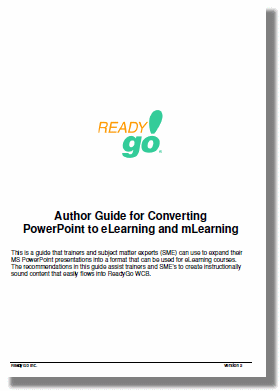 The tips and techniques section in the guide provides suggestions to edit, organize, and augment the presentation material so that it works well as e-Learning material.

It only takes a few minutes to read through this guide.

Learn how easy it is to use ReadyGo WCB to: