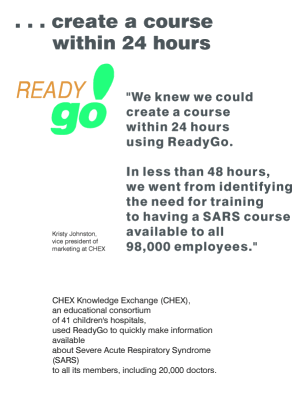 Company:
Child Health Corporation of America (CHCA)
Business:
Medical - Hospital
Location:
Shawnee Mission , KS
The Organization
Child Health Corporation of American (CHCA) is a 41-member business alliance of children's hospitals from across the United States. CHCA children's hospitals represent more than 20,000 physicians, 98,000 employees. CHCA boasts its own virtual university known as CHEX -- Children's Hospital Knowledge Exchange. CHEX both offers courses and enables its member hospitals to create courses tailored to their needs.
The Challenge
When the SARS hit in 2003, CHCA realized that they needed to quickly create a training course focused on hospital issues for their member hospitals. Not all their member hospitals are signed up to access courses served from their LMS. They needed a system that could be set up quickly and that allowed students to self-register. Student information needed to be stored so that CHCA could charge expenses to their member hospitals.
The ReadyGo WCB Solution
CHEX and member hospitals currently use ReadyGo WCB to create rapid e-Learning courses. "We knew we could get a course created within 24 hours," says Kristy Johnston, director of training for CHEX. "The issue was allowing employees not currently in our system, to register and take the course. We contacted ReadyGo and received a demonstration of ReadyGo Server-Side Testing. We then bought and installed ReadyGo SST. In less than 48 hours, we went from identifying a problem to installing a system and having a SARS course available to all 98,000 employees. Now that's rapid e-Learning."