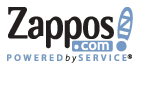 Company:
Zappos.com
Business:
Online retail, call center
Location:
Las Vegas NV
The Company:
Zappos.com was founded in 1999 with the goal of becoming the premiere destination for online shoes. Since then, their unwavering focus on superior customer service has allowed them to expand their online offerings to include handbags, clothing, and more. They have a strong culture that highlights their commitment in providing online consumers with the absolute best service and the best selection in online shopping. Zappos.com has been written up in the business press as a leader in customer support.
The Challenge:
Zappos.com has over (how many?) employees; the majority of which are in their customer loyalty (call center) department. The Pipeline team, responsible for training all employees, has developed training curriculums for new employees, spot training for existing employees, and compliance training. Up to a few years ago they were training employees using traditional classroom techniques. They found themselves continually juggling employee schedules and running series of the same courses since they could not shut down their phone and e-mail center to train employees. The pipeline group realized that classroom training was not the most efficient methodology for all their training needs. They decided to move their assessments, spot training, and compliance training to eLearning.
The ReadyGo WCB Solution:
Roger Dana, Zappos.com Pipeline Supervisor reviewed a number of tools before choosing ReadyGo WCB for authoring and ReadyGo SST for registration and reporting. ReadyGo's solution was a good fit for Zappos.com. Roger found ReadyGo WCB's user interface to be intuitive. He was able to develop his first course in a matter of hours. This enabled him to quickly put courses and assessments online. Roger has found that as his eLearning skills improve and the company's needs expand ReadyGo's product's capabilities continue to support him. "ReadyGo WCB and SST appear to be simple tools, but they are really very powerful tools" states Roger.

Roger's Pipeline Group is responsible for Zappos.com's four week long new hire training program. Most of this training is given in the classroom with tests given online using ReadyGo WCB and SST. Zappos.com has found that online assessments make it easy to track students and record test scores. Spot training and yearly federally mandated compliance training like PCI (Payment Card Industry) training has been developed using ReadyGo WCB. This allows their Customer Loyalty people to schedule themselves for short, 15 minute training, throughout their work week; alleviating the need for juggling schedules. Recently the Pipeline Group has extended their online training to their merchandising group. The merchandising courses were developed so that their buyers can expand their hard skills. They now have online courses and assessments on retail planning, open to buy, and retail math.

The pipeline group uses ReadyGo SST's reports to identify who has taken training and who needs to take training. "ReadyGo SST provides us with the reporting capabilities we need. ReadyGo includes a macro that makes it easy to export reporting data to an excel spread sheet where I can create custom reports based on management requests" states Roger. Zappos.com also provides ReadyGo SST's online reports to managers so that they can better manage by accessing their employee's progress and testing status.