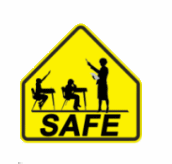 Company:
Kingdom Security
.
Business:
Safety and Security Training
Location:
Washington DC

The Organization
Kingdom Security is located in Washington DC. Founded by former White House secret service agents, their mission is to provide safety training to the general public.
The Challenge
Kingdom Security's founders were well versed in dealing with terrorist and other threat situations. After witnessing the rise of school and workplace shootings they realized there was a general public need for basic safety training on surviving a gunman. They wanted to produce accessible training that would save lives in a threat situation. The founders did not have an e-Learning background and were looking for an e-Learning company they could partner with to help them produce and serve their courses. They were looking for a company that could affordably help them assemble the course, in an instructionally sound manner, using the audio and videos they created, along with hosting the courses with a registration and reporting function, and provide an automated merchant solution so that Kingdom Security could sell individual courses from their web site.
The ReadyGo WCB Solution
Cliff Wimbush, Kingdom Security Principle searched the web for companies that provided the full solution they needed. The interviewed a number of companies. Eventually they choose ReadyGo. "ReadyGo's solution was affordable and complete. They were easy to work with and quickly produced our course. They shared their instructional design and web knowledge with us so that our course perform well over the internet and are instructionally complete. We liked that they assembled our course, then provided it back to us in ReadyGo WCB so that we could tweak it ourselves." states Cliff.

Kingdom Security is in negotiations with a number of Collages, Universities, and businesses that want to offer a course to their students and employees on how to survive a gunman situation. Schools and businesses like that they have the choice of sending students to Kingdom's site for training or that Kingdom's courses will work with their LMS and can be hosted and tracked internally. "I like that ReadyGo's hosted solution lets me set up separate domains for each of my customers. This makes it easy to provide each customer with reports and statistics on what their learners are doing." Says Cliff.

Kingdom wanted to expand their offerings to the general public. They liked that ReadyGo has a merchant application that works with Google Checkout. "Google Checkout makes it easy for us to create a store on our web site. ReadyGo made it easy to connect the store up to my course so that customers to my web site purchase a course and then are automatically registered. I don't need to get involved. What I really like is that ReadyGo has been there every step of the way. Their support is excellent, we would have never been able to provide such a complete solution if it was not for them." Cliff states. p> See a demo course of Kingdom Security's training