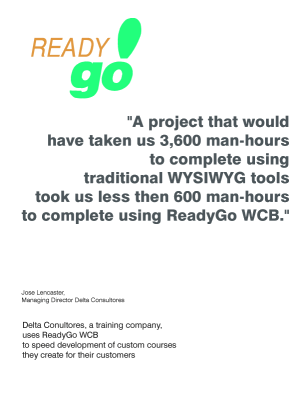 Company:
Delta Consultores
Business:
Corporate Training Development

Location:
Lisbon, Portugal
The Company
Delta Consultores is corporate training company located in Lisbon, Portugal.
The Challenge
In 2003 Delta Consultores along with two partners (Perfil, a training company specialized in training trainers, and University of ISPA) won a European Union (EU) contract to create a series of training courses on Tele-working. The project was given an aggressive deadline, leaving little time to design, develop, and produce all the necessary material. The project consisted of four-blended learning courses targeted at tele-workers, their supervisors, and their colleagues. The courses covered a number of issues including best use practices for technology, business management, time management, virtual communications, and virtual team building.
Delta Consultores and their partners had twelve-months to identify and create the course material, turn the material into a series of e-Learning training courses, and assure that these courses met EU objectives. From the beginning management viewed the project strategically. Specifically: Should the partnership subcontract? Which tools should the course developers use? Which course development methodology should be deployed? How should they train course developers? – All available options seemed either to be too expensive for their budget or would not fit in the allowable time frame.
Delta Consultores has been in the training, CBT, and e-Learning course development field for a number of years. They have found that when they use popular authoring software like word processing, presentation, graphic, and web creation tools, it typically takes a team of people five to eight months to create one course. In addition, they typically need to hire expensive consultants to provide necessary programming capabilities to the courses.
José Lencastre, Managing Director of Delta Consultores believes that it is not only a question of using the best tool on the market it is also a matter of identifying where the partnership should invest its resources. "I prefer to use our internal people without outsourcing the project. I know my people can do the job, the outcome will be successful, and I get to develop my employee's expertise." Delta Consultores needed to figure out how to streamline their creation process so that they could meet the deadline, produce quality courses, and not exceed their allotted budget.
The ReadyGo WCB Solution
José Lencastre found out about ReadyGo WCB. "ReadyGo WCB took a major role in the project as its structured approach allowed course developers to speed course creation and produce interesting e-Learning courses with a standardized training strategy and look," said Lencastre "Most of the work was done by our content group. They only needed outside specialist or guidance for specific tasks like graphic design or specialized communications." Storyboards, web design, and instructional design are built into the ReadyGo WCB, allowing course developers to concentrate on training development.
"A project that would have taken us 3,600 man-hours to complete using traditional WYSIWYG tools took us less then 600 man-hours to complete." ReadyGo WCB provided the infrastructure to accomplish this task in less then 1/6th the time it would have taken using other tools. The other time saver was the partnerships ability to clearly lay out course development guidelines before they got started. The result was that at the end of the twelve months not only were the four required courses finished and approved but the partnership had time to developed two additional courses.
###
ReadyGo and ReadyGo Web Course Builder are trademarks of ReadyGo, Inc. All other trademarks or registered trademarks are the property of their respective owners.