You can incorporate a web page built with another tool like Dreamweaver into your course.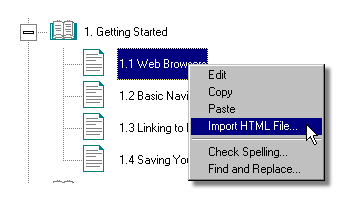 Select the location in the tree window, right-click and choose Import HTML File.

You can specify the type of page you want your content imported as: bullet page, Try This exercise, Tell Me More article, Step-by-Step procedure, Test, Quiz, or a custom sub-page.

You can also go to any web page and copy the page, in ReadyGo WCB choose paste (special), the entire page along with any graphics or dynamic content will be brought into the ReadyGo WCB page.